She paced her apartment feeling frustration well inside her. If she didn't do something, she'd explode volcanic lava everywhere that could possibly kill everyone within reach. She glared at the letter sitting on her coffee table, conjured one just like it and tore the conjured one to bits before muttering
incendio
and burning it to ashes. She felt like doing the same to the original letter but knew that would be a foolish thing to do.
The offending piece of paper was news from Lion and her unit. Well, it was more of a lack of news. They hadn't found any leads – not a single one. She didn't even know if they were having an active investigation or just shelving it until something else popped up. She didn't want to be proud or stuck up but considering it had to do with her, a valuable agent, they had to look into the case. But she couldn't be a hundred percent sure.
She'd gone through the scenario in her head more times than she could count, replaying what happened over and over again, seeing if she could pick out any details but she drew a blank each time. There had been too much going on around her and she knew that as time went by, her memories of that day would become less clear. She stopped abruptly in her tracks. She would write it down. Maybe that way she could see things from a different perspective and catch details she missed previously.
She sat down at her tiny, messy table and pushed everything to one side before summoning her journal. She'd charmed it so no one but she could open it. She flipped to a clean page, put her pen on the paper and began writing.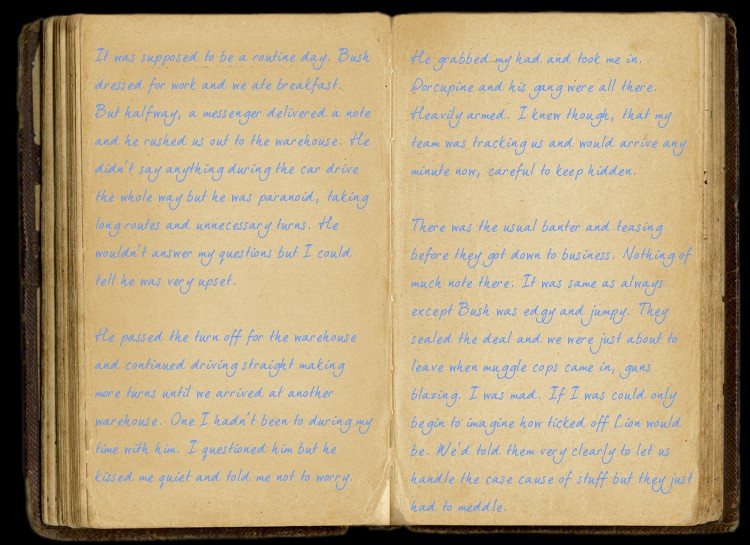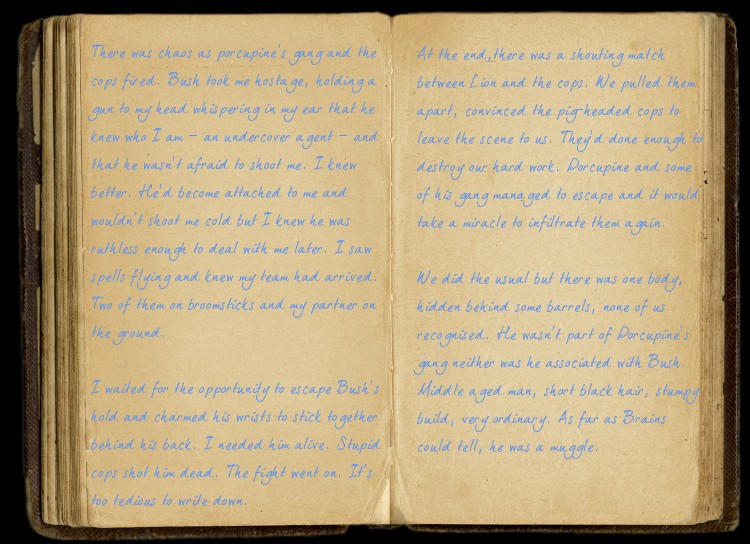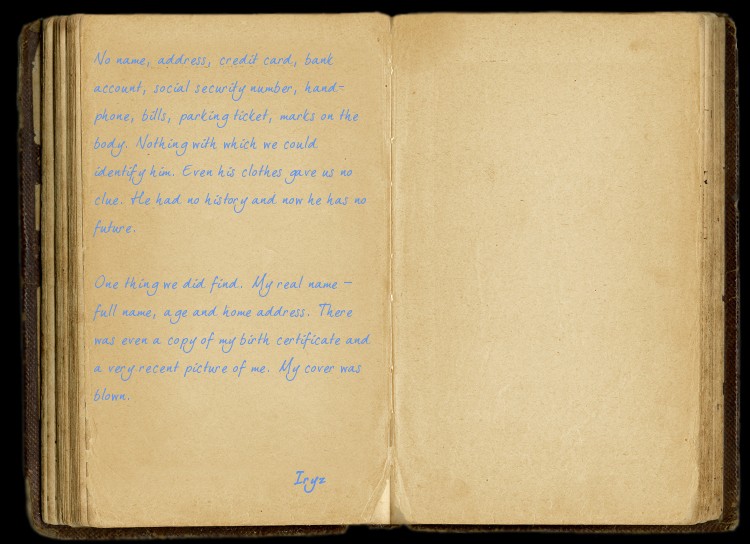 She put her pen down and stared at what she had written. It was a very watered down version of what had happened that day. Most of the action was fuzzy but she remembered very clearly, killing that ghost man. He had been shooting at the cops and turned his gun on Porcupine. She'd only injured him with her spell but he died of blood loss before the fight ended. He'd been using the gun of a dead gang member so that was a dead end.
How did a muggle man have her information? Who gave it to him? Or if he found out himself, how did he do it? Was that what was in the note Bush got which made him suspect her? Was she doomed to forever be an inactive agent? What was going on?
She sighed and put a charm on her journal so that everything written in it would appear gibberish to everyone else but her. She closed it and put it away. Needing to unwind, she grabbed a beer from the fridge, stepped out to the balcony and became lost in thought.